THE MANY ADVANTAGES OF LEASING
Equipment leasing is gaining popularity in the turf industry as golf clubs, schools and contractors move to preserve scarce capital for other projects, and to lower operating costs. Leasing's great advantage is that a contract can be structured in a variety of ways, to suit a variety of needs.
The graph shows the breakeven calculation for a 3 year lease of a Toro Reelmaster 3100 Sidewinder at $980 + GST per month.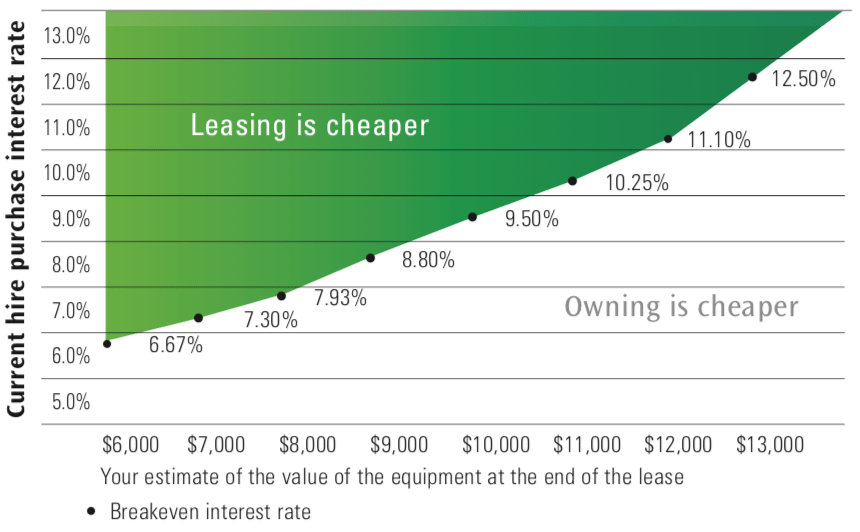 To determine if leasing or owning the equipment is better for you:
Take the current hire purchase interest rate, and
Your estimate of the value of the equipment at the end of the lease, and
Mark this point on the graph.
If your point is above the breakeven interest rate (in the green shaded area) then leasing is cheaper. If it is below the breakeven interest rate, then owning is cheaper.
HERE'S HOW A PARKLAND LEASING CONTRACT COULD WORK FOR YOU
Toro Reelmaster 3100 Sidewinder
Lease Term
3 years
Expected annual usage
500 hours
Special conditions
Right of renewal for a further 3 years
Payment method selected by you
Fixed Monthly
Monthly cost
980 + GST
Toro Groundmaster 7210 Zero Turning Radius Mower
Age of commencement of lease
2 years
Purchased from you for
$14,000 + GST
Expected annual use
900 hours
Lease Term
2 years
Payment method selected by you
Variable on hours of use
Hourly cost
$19.80 + GST
• No capital is needed up front.
• The capital cost of equipment is not shown on your balance sheet.
• You can lease either Toro or Red Value equipment.
• You can select either a short or long term contract.
• The lease period is fixed.
• Monthly payments are fixed.
• Payments are tax deductible. (This is not applicable for incorporated societies – but then depreciation and interest aren't either).
• Maintenance may be built into monthly lease payments.
• As the supplier, Parkland remains the legal owner of the equipment. At the end of the lease, the equipment is returned to us to sell. Any loss made on the sale is carried by Parkland.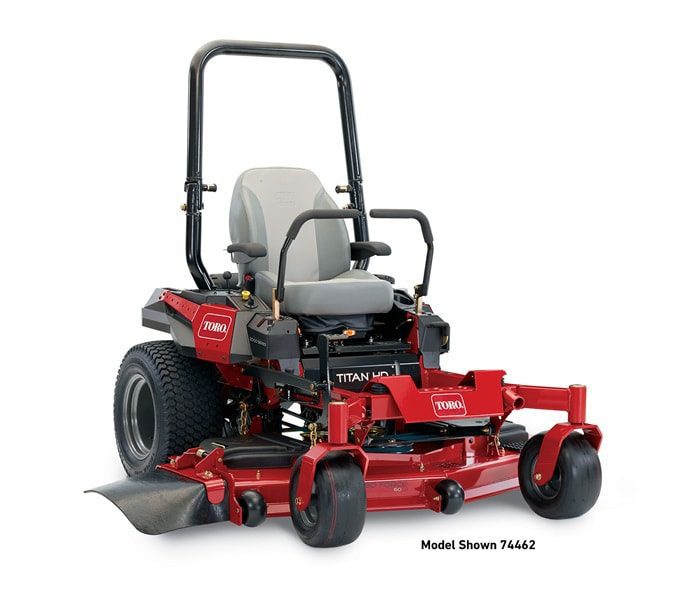 PARKLAND IS THE LEASING EXPERT
An intimate knowledge of finance and equipment markets allows Parkland to structure a lease contract to suit your organisation. A Parkland lease can even include features such as staggered payments (low in your off-season and higher during peak cash flow periods) and excellent maintenance bonuses where you share in any profits made on sale.
Leasing is not only available for new or Red Value equipment. Parkland will also purchase your existing equipment on a lease back basis.
When you're next buying equipment, Parkland will show you how a lease can be tailor-made for you.
IS LEASING A BETTER OPTION?
The economics of leasing
Experience has shown that there is little difference between the long term cost of owning or leasing mowing and turf renovation equipment. Whether you chose a lump sum capital payment or a regular monthly hire charge, the outlay is similar when interest is taken to account.
Owning equipment may be a better bet for those with a low cost of capital – for example, organisations with cash reserves on long-term bank deposit, at low rates of interest.
The value of equipment at the end of a lease is a significant factor. Parkland can calculate the net present value to provide the answer.
Call 0800 807 333
For a no obligation leasing quote
Call Parkland Today
0800 807 333