Share This Story, Choose Your Platform!
IN PURSUIT OF A QUALITY LAWN FINISH
Need a superior, clean lawn finish? Then you're looking for an effective collection method of grass and leaf clippings. Several considerations must be made to ensure the mower you're evaluating is up to the task.
Firstly, you must choose whether you prefer manual or automated grass disposal. This will impact the time taken to complete the job and your physical capacity to lift grass clippings – which can be heavy! Secondly, you should understand the difference between side or rear grass collection systems. This can greatly impact your lawn's overall finish. Finally, since grass and leaf collection are key to an overall finish, how easily does your grass accumulate and cause blockages? More importantly: how easy is it to clear them?
Grillo takes design, engineering and testing for easy mowing and smooth finish seriously, and the result is their FD (Front Deck) range of grass collection ride on mowers. These collect grass beautifully and minimize blocking frustrations to leave a high quality finish on your lawn.
MANUAL OR AUTOMATIC GRASS DISPOSAL?
Careful consideration is required to preference between manual or automated grass disposal.
Lifting and carrying catchers is no easy task, especially when they're full of wet grass. The less regularly you mow the faster your catcher will fill; which can turn mowing the lawns into a longer chore. Emptying catchers can substantially add to the time and effort of the overall mow, especially if you aren't able to mow regularly.
Some mowers offer grass disposal from the seat, which can be either manual, electric, or hydraulic. Although this is an extra feature which you'll pay more for up front, the convenience means you don't need to get off the mower every time the bin fills. This is better in the long-term and makes mowing will be less arduous overall.
Your budget, available time and physical capacity will determine which option is best for you.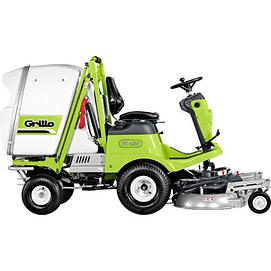 COLLECTION SYSTEMS
There are two main types of collection systems. In both cases, it's the resultant airflow that ensures success in providing a beautiful mowing finish on your lawn:
Rear collection forces the grass direct from the rear of the deck straight through the machine and in to the grass catcher (seen on the Grillo FD280). The blade design features counter-rotating blades that helps transfer the grass into the bin. A great point about this system is that the grass doesn't have far to go, and this shorter distance means decreased area to potentially create a build up of grass.
Side collection forces the grass up a side chute and into the grass catcher (like the Grillo FD220R). Although this is a longer path, it can be just as effective if the tube is direct and streamlined to avoid sharp corners and unnecessary bends in the system.
Most blockages occur for three reasons:
In spring, new grass becomes mixed with surface soil and this builds up till a blockage occurs. In situations like this it's important to watch your grass cutting length – if it's too low this can be a problem.
The operator keeps mowing long after the catcher is full and grass blocks. Features like collection cut-off switches will prevent the latter. Cut-off switches are very effective as they disable the collection as soon as the bin is full – eliminating the temptation to finish the row and experience a blockage.
The operator may drive the machine so fast that the lush grass builds up under the deck. This is simply because the machine has not been given sufficient time to process the intake. Continue to keep the revs up, and forward motion down in these conditions.
The two vital outcomes you want from a collection mower are to cut and collect the grass without leaving debris on the ground. A good thing to ask your outdoor power equipment dealer is where the machine commonly blocks? Knowing the difficulty of managing blockages is very valuable when making your purchase decision.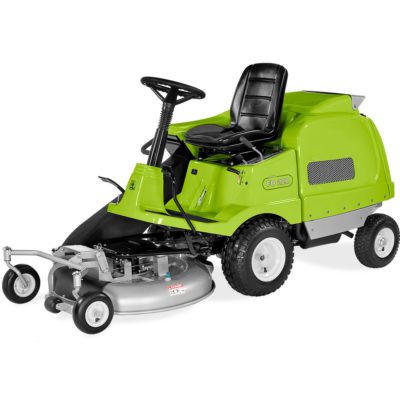 THE WET GRASS CONUNDRUM
Don't just expect every mower to be able to handle wet grass. Most ride-on mowers are built for optimum conditions. This means nice dry grass, level terrain with a lovely, regularly mowed lawn ready to go. However, there are quality products available to help achieve this kind of finish in less-than-perfect circumstances. If you don't want to be held back by the rain then you will need to find a mower capable of this task. Grillo collector systems can do a superb job in less than optimum conditions for you. The success of these mowers is reliant on created high air flow and the fluid design of intake tubes and decks.