Share This Story, Choose Your Platform!
When manufacturing commenced in 1950, the Grillo walk behind tractor was the first product off the line. Nearly seventy years of testing and development has seen this original model evolve and diversify into a range of modern, versatile and powerful two-wheel tractors. From small lifestyle blocks and farms to market gardens, the walk-behind range is useful to a broad range of applications and industries.
Here are ten of the most important and distinguishing features that make the Grillo walk-behind range a cut above the rest…
1. ULTIMATE VERSATILITY
These two-wheel tractors have a wide range of available attachments. From traditional rotary tillers and furrowers, rotating ploughs to sickle bars, snow-throwers to rotary sweepers, flail mowers to grass cutters and dumping-towed trailers; the two-wheel tractor has it all! Reducing the number of machines at your property while increasing the application of available activities brings a better return on you equipment investment. It also saves space and machine storage, and reduces equipment servicing and maintenance costs.
2. GEARBOX DRIVEN ONLY, NO BELTS OR CHAINS
All Grillo two-wheel tractors have been designed with transmissions using precision gears and hardened steel shafts mounted on ball bearings. Drawing on more than sixty five years' experience guaranteeing reliability, Grillo equipment is designed to offer years of trouble free operation.
3. WELL BALANCED
Grillo two-wheel tractors achieve a low center of gravity due to the engine being in line with the transmission. Other machines, such as belt-driven machines, can't achieve this with the engine placed higher up. All Grillo walking tractors are designed so the machine's weight is over the tiller and can provide greater stability. Therefore, the operator does not have to apply great pressure on the handlebar to keep the tiller in the ground. Grillo tiller tines also produce quicker tiller rotation as they turn 20 times per wheel revolution. This allows the tines to chop the soil and vegetation into small pieces, producing an ideal growth medium for plants.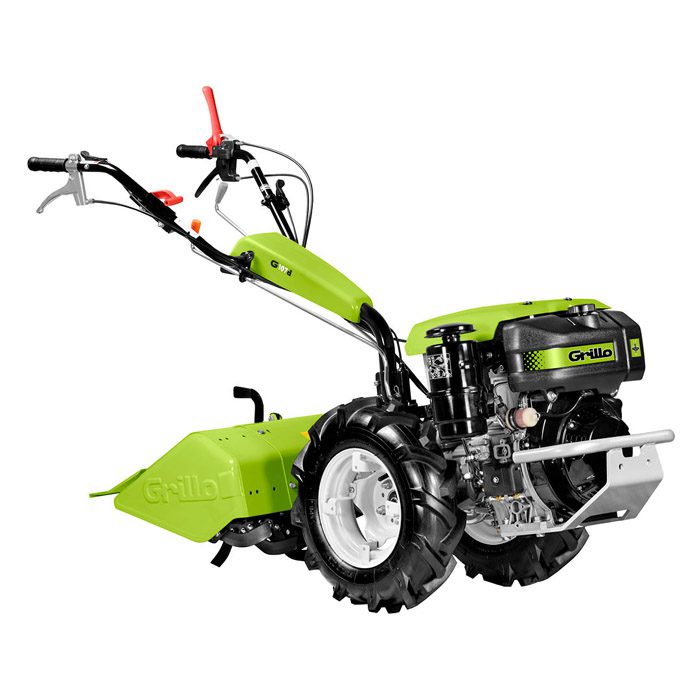 4. ADJUSTABLE, ERGONOMIC HANDLEBARS
Handlebar adjustment varies depending on model and application; models designed to take both tilling and mowing attachments have reversible handles. The quick adjustment device gives more effective leverage at the end of the row, during transport or during servicing. Revolving handlebars pivot 180° to allow multiple types of attachments to be fitted and used.  Grillo mowing attachments are fitted out the front of the machine with engine at the rear. Balance is gained through rotating the handlebars and adding any tilling attachments behind the unit with engine at the front.  There is the ability to drive the machine from left to right through any activity based on height and width adjustments. Grillo equipment is fitted with brake and clutch wires that are twice the usual size.
5. PERFECT TILLING
Grillo tillers break up the soil even underneath the transmission unit thanks to the adjustable depth stake. Cheaper tillers leave an untilled strip 5-8 cm wide. What's more, the adjustable width steel tiller casing has specially shaped side guards which do not act as a brake on the machine's progress (fully compliant with EC standards.) This retains the soil inside the tiller without clogging, tilling it more finely.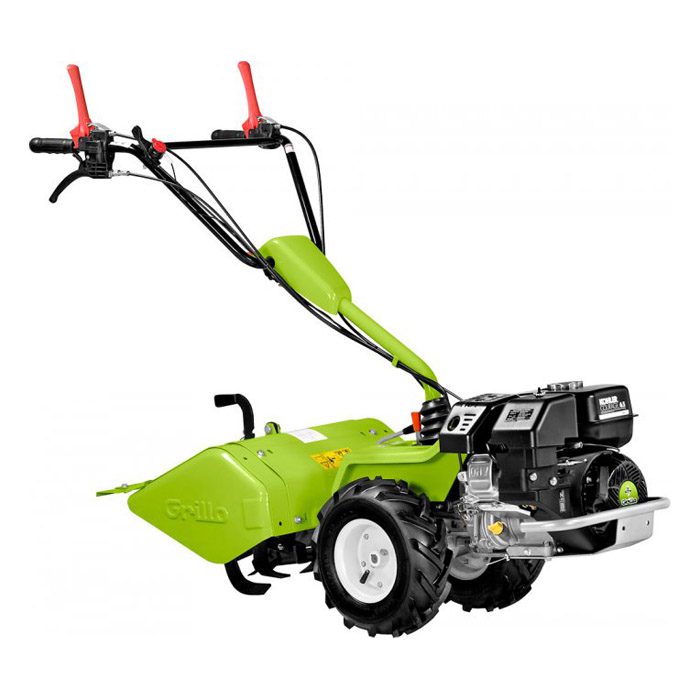 6. THE 6-TINE GROUP TILLER
The 6-tine group tiller, exclusive to Grillo, is also available in a range of models. It tills the ground much more finely and provides excellent results on very hard and medium consistency soils (not recommended on wet clay soils). The depth stake "foot" is easily adjustable from the outside for trouble free adjusting –  even when at work, giving exactly the right setting for uniform tilling.  This eliminates effort and the need to wrestle with spanners.
7. SUPERIOR SICKLE BAR (CUTTER BAR)
Grillo sickle bars are ideal for agriculture and gardening, as well as vertical markets such as poultry litter management or organic gardening. The crank mechanism is built using premium steel types and is fitted with grease nipples on all articulating parts. The floating grass disperser is mounted on anti-vibration rubbers with a special profile to dispel the grass in even the most demanding conditions: the grass is cut and dropped to the ground by the action of the wheels, allowing easier control when moving forwards. Blade sections are made of steel and fixed with 6mm length rivets. The cutter bar's teeth profile ensures a perfect cut, manufactured from heat treated steel. The blade tensioners are adjustable, ensuring a constant fit between blade and teeth.
8. INDEPENDENT PTO, WHEEL DRIVE AND REVERSE GEAR PTO CUT OUT
All Grillo two-wheel tractors have PTO engagement that is independent of the wheel drive. This allows the operator to disengage the PTO while the wheels are in motion, for safer transport. Grillo two-wheel tractors are fitted with a mechanical device which automatically cuts out the PTO when the machine switches to reverse gear. The operator cannot engage reverse gear while the tiller tines are moving, providing the operator with maximum safety protection.
9. DIFFERENTIAL LOCK AND CLUTCH
The Grillo G107d and the Grillo G110 are fitted with differential lock – (easily locked when required, such as for tilling, and not when not required), for increasing traction by engaging both driving wheels, and optional independent brakes for easier turning and maneuvering. Grillo two-wheel tractors are fitted with a professional class standard or inverted cone clutch produced in-house by Grillo. It wastes no power and extends the working life of the gearbox. Grillo also manufactures protective features on some accessories.
10. QUALITY ENGINES
The engines installed on Grillo two-wheel tractors are all quality units that above all give the right results for the intended type of use. They are all selected and tested in advance to perform to Grillo quality standards.